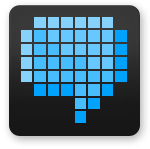 Easily send messages to be displayed on your LaMetric device remotely via text message. More details at:
https://www.scrollernote.com/applications/note
• Text (or email) "START" to post@scrollernote.com to get started. • Once you have set up your app, you can simply send a text message to have it appear on your LaMetric device. • Works great with everyone in the family – to add another user, just press the action button to request a new activation code so they can text (or email) it to post@scrollernote.com. • Begin your messages with an emoji to indicate what icon you'd like to display next to the message – we'll try to find a match, and will be adding support for more emojis as we go. • Configure your app settings to limit how many messages appear and for how long.