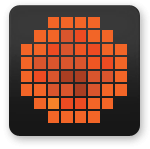 Distance Mars to Earth (Short version)
Schildwacht
5
This App shows the distance from Mars to Earth in kilometers or miles. This shorter version of the App only shows the distance without the unit. The longer version shows can be found here:
https://apps.lametric.com/apps/distance_mars_to_earth/9425
- At the present moment, it would take about 19 minutes to send an e-mail to Mars. In 2287, this is shortened to about 3 minutes to reach the people on Mars. Mars becomes approx. 43 km (26.6 miles) per second closer to Earth. If you want to know more about the orbit of Mars and Earth, have a look at
https://mars.nasa.gov/all-about-mars/night-sky/close-approach/
- There is a switch in the menu of the App to change between kilometers (default) and miles. Made with love from Amsterdam. Send feedback to
[email protected]
and please like the App if you use it.